Digital Photography Kiosk Report Now Available!
We have just published the Second Edition of our report on the fastest-growing sector of the kiosk industry — digital photography. The 144-page Kiosk Industry Sector Report — Digital Photography examines the current status and opportunities for growth for these units that are being deployed at an impressive pace and now account for nearly 25 percent of the worldwide kiosk installed base. Some of the reasons this industry segment is so exciting:
Digital Cameras comprise 90 percent of new camera sales
Prints made from digital cameras at kiosks increased 376 percent in 2004
The average cost of a 4x6 print at a kiosk is $.29 vs. $1.00 on a home printer
Many new kiosk sales represent additions to existing installations
Camera phones will encompass 89 percent of all mobile phones by 2009
This report examines the current status and growth opportunities for these units that are a beneficiary of the rapid acceptance of digital cameras. Secrets to Success tips, research statistics and Case Studies of 22 of the world's leading photo kiosks are included in this report. Each device was tested using a methodology designed to provide the most level playing field. Summit's updated and redesigned Evaluation Checklist was used to assess the capabilities of each photo kiosk. The same test pictures — employing the same storage medium — were used at each kiosk and compared on many aspects of customer usability, including speed of image loading, editing options and print output quality. Each Case Study includes pictures of the unit itself along with a minimum of three pictures of the user interface; a total of 105 Figures. The commentary includes a candid discussion — both positive and negative — of each photo kiosk, and — where appropriate — recommendations for improvement. A number of charts are included covering the leading digital storage media accepted, the types of peripherals used, the most popular editing features and the leading print options.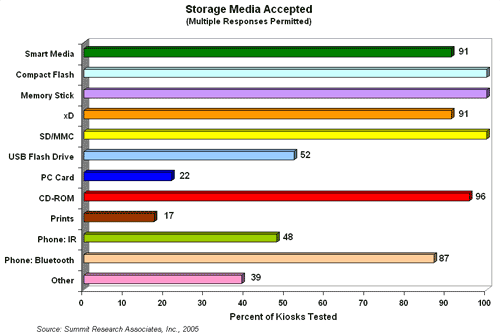 Kiosk Industry Sector Report — Digital Photography is available as a PDF or CD-ROM. We have also prepared a two-hour PowerPoint workshop on Digital Photography kiosks featuring — but not limited to — the units and trends highlighted in the Case Studies section of this report. It is available on CD-ROM at a considerable discount when purchased with the report. (Once you have received the CD, we will set up a mutually agreeable time to conduct the workshop via teleconference.)

Limited and unlimited site licenses are available; contact us for details. Major credit cards (Visa, MasterCard and American Express) are accepted.
Please contact or call us at (301) 670-0980 to order the report, the workshop or for individual or site license pricing Ordering is easy; simply email, fax or phone us your credit card number, expiration date and complete address for invoicing purposes. We will fill your order promptly. Purchase orders, checks and wire transfers may also be used for payment.